Customized shoes for everyone
Double G Customsis a customization workshop dedicated to the world of weddings. Created in 2015 our customization workshop offers personalized shoes for all eventualities. Whether you want to have customized shoes for your wedding, to equip your company's employees or simply for everyday life, we can help you in the creation of your shoes. With years of expertise in customization, our designs have been seen around the world and are shipped all over the world.
At a time when everyone is wearing sneakers, why not wear them for your wedding too? We have developed a range of customized shoes especially for weddings. Our customizations are always sober and elegant to respect the harmony of the pairs of shoes. We follow closely the wedding trends to create new models that will perfectly match your wedding outfits.
Have you thought about personalized shoes to develop your company's reputation? We have developed a customization service for companies. From a small production of a few pairs for a trade show to an international marketing campaign of several thousand pairs, we can accompany you in your project.
Have you always dreamed of having a pair of shoes that would reflect your personality or your passions? We create the pair of your dreams in our customization workshop. Our artists are at your disposal to realize your craziest customization projects on branded shoes like Converse, Nike or Adidas for example.
After years of experimentation and development, we now offer a customization service with unlimited possibilities: inscriptions, designs, stitching, satin bows, Swarovski beads and rhinestones... are just some of the possibilities to create your own personalized pair . It's even easier to customize your shoes with our online customization tools. We are always ready to bend over backwards to make the perfect pair of custom shoes for you.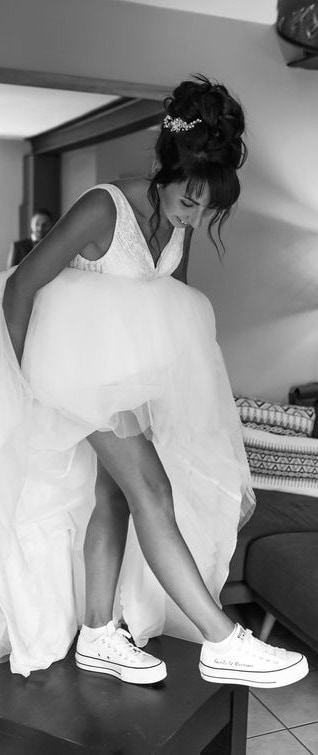 Hello. I wanted to thank you for your impeccable work, and again for making our most beautiful day even more beautiful! I'll be sure to promote you.
The order was perfect ... ( like the day!!!) Thank you!
Hello, having been very pleased with the order made on your site concerning my husband's trainers, I am placing another order for my nephew!
Hello, I confirm that I have received our gift which is simply AMAZING! I would like to thank you again for doing everything you could to make my project happen in time.
Hello, just a quick message to say thanks again for our shoes! They are great and were a hit on August 11th! I'm already thinking about a pair for me and my daughter (ok, she's only 2 months old, but I'm already excited!
Shoes well received! Thank you for your kindness, professionalism and patience. It's a pleasure to meet people like you.
Our customised shoes are featured in the press